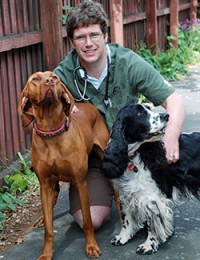 Tim is the practice owner and senior veterinarian. He and Georgina purchased the practice in 2008 from Dr. Tony Mitchell and have focused on providing complete professional veterinary care for pets in Christchurch.
Tim started his career in Rotorua in a a mixed practice before headin to Pahiatua where he practiced in a mixed practice for 3 years. Four years in the U.K. followed, where his love of small animal surgery, especially orthopaedics, was concentrated on. He practiced in Yarm and around Reading but spent most of his time in a small animal practice in Newport, Wales.
On returning to New Zealand Tim worked for a short time in Methven, and then Christchurch, before purchasing Merivale Papanui Veterinary Clinic. In 2009 Tim successfully completed his Sydney Post graduate certificate in cardio respiratory medicine, and in 2011? Tim successfully finished his Sydney Post Graduate certificate in small animal surgery.
Tim loves to trail run and, when he is not looking after daughter Annabelle and son Peter while Georgina works, he can often be seen out in the hills around Christchurch on one of his long runs.