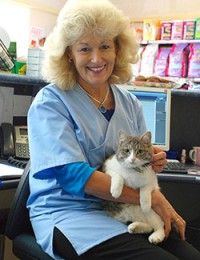 Ginny has been with the practice since 1977 and is one of the friendly faces who will greet you as you arrive, or one of the extremely knowledgable and caring voices on the end of the phone when you call.
Ginny first practiced as a human nurse but then completed her veterinary nursing certificate once joining the practice.
Her years of experience as a vet nurse make her a font of knowledge and she can answer any questions you may have about your pets health and well being.
Ginny's two sons have grown up and shifted to Hamilton and to Australia but her house is filled with her beloved dogs, even sometimes a litter of a puppies!